CamlinkPanel Application¶
The Camlink Panel Application supports configuration the MityCAM-C8000, MityCAM-B1910, and MityCAM-B2521 cameras via the serial port of the Cameralink interface. It supports modern Windows operating systems.
Installer Download¶
https://support.criticallink.com/redmine/attachments/download/7202/CamlinkPanel_1.3.0_setup.exe
Users Guide¶
MityCAM Camera Link Panel User's Guide (60-000008)
National Instruments Camera File(s) (.icd)¶
The installer for the camlink panel also includes frame grabber configuration files (where applicable, I.E. CMV8000).
See the folder c:\program files (x86)\Critical Link\CamlinkPanel\NI_PCIe-1433 for National instruments MAX frame grabber configuration files as an example.
Application Screenshot¶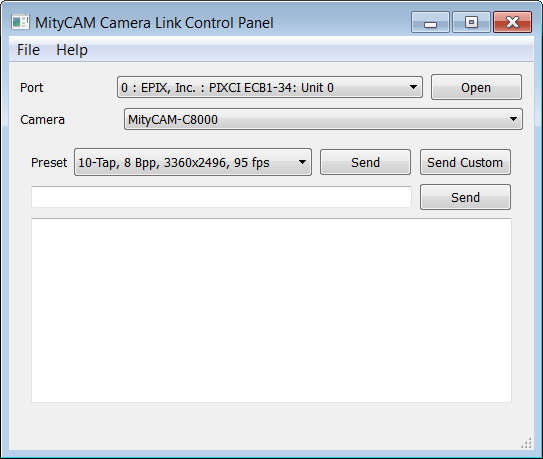 Go to top